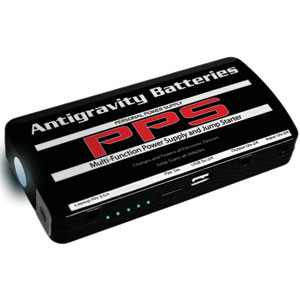 Radioworld is excited to announce a new and revolutionary product to its ever growing line up.  The Antigravity Batteries Micro-Start XP-1 are now in stock!
The Micro-Start XP-1 is a pocket size Extreme Power Lithium battery jump-starter and back-up power source for vehicles and electronics!
Whether you are riding, driving, camping, boating, snowmobiling, on your ATV or hiking, the Micro-Start XP-1 is one of the most important emergency power items you will ever purchase. It offers safety and security in a world where we rely so heavily on our electronic devices and vehicles. The XP-1 fits in your backpack, glove box, storage compartment or pocket. It is truly a go anywhere device.
Weighing less than a pound (14 oz. or 400g) and small enough to fit in your pocket, you can take it with you anywhere and remain confident that you will be able to start your vehicle, make that important call, or power other electronic devices on that long trip or outdoor adventure.
It also has a built in flashlight with S.O.S patterns!
The built-in Extreme Power Lithium battery can hold a charge for up to a year and not only jump-start most Cars, Trucks, Motorcycles, ATVs, Snowmobiles and Watercraft multiple times, but can also provide hours of backup power to most of your electronic devices.
"Please note, some vehicles with highly sophisticated electrical systems may not jump-start using the MICRO-START."
Does this all sound to good to be true? We thought the same thing, so decided to test it ourselves at Radioworld. We took our president's BMW M3 and disconnected the battery. We then connected the Antigravity Micro-Start XP-1 battery to the car. To our amazement it started on the first try. We then shut off the car and repeated the same test 3 more times. The car started every time, each time with absolutely no trouble at all. With portable emergency power like this, in such a small package, you'll never be stuck for a boost or emergency DC power again.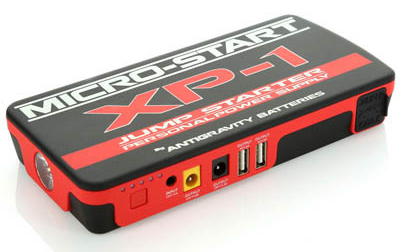 The Micro-Start XP-1 also has the following features:
– Charges and powers most electronic devices, including laptops.
– 3 on-board Power Ports: 19v for laptops, 12v standard output for all 12v Accessories, USB 5v output for charging or powering ANY 5v USB standard charged device.
– Hi-power LED flashlight with 2 built-in flash patterns including and S.O.S. flashing beacon pattern.
– Lighted battery capacity indicator (Press a button to see the battery capacity left in the Micro-Start).
– Built-in over-charge and over-discharge protections for long battery life.
– Automatic power-off when not in use.
What's in the box:
– Slim-Leather Carry Case
– Micro-Start XP-1 Unit with Extreme Power Lithium battery
– Detachable Mini Jumper Clamp
– 1 Universal Cable with 8-different detachable tips to fit all the different brands of Laptop charging ports (Apple, Acer, Dell, HP, Asus, and more)
– 1 Universal Cable for all 12v Accessories such as Mobile DVD players, or other 12v Accessories
– 1 Universal USB Cable with 8 different detachable tips to fit all 5v USB chargeable electronics
– 1 Home Charger
– 1 Mobile Charger for plugging into cigarette lighter socket
Specifications:
– 200 Amp- 400 Peak Amp Jump Starting ability
– 14 ounces
– 6″ long x 2.8″ wide x 1″tall
– Full charge time 4 hours
– Operating temperature -20c to 60c